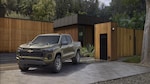 If you're midsize truck shopping in 2022, the good news is that there's not a truly bad choice on the American market. The bad news is that there's not much to distinguish one from another. The 2022 Chevy Colorado, for instance, is a solid choice in nearly every way but not a
special
one in any way.
It's due for a redesign, which is a chance to set it apart.
Chevrolet today unveiled the 2023 Colorado, an all-new truck with a more distinctive spirit than the one it replaces. The 2023 Colorado offers a unique love-it-or-hate look and a minimalist, modern-style cabin resembling some sedans' cockpits more than the interiors of its rival midsize trucks.
Unlike the 2022 Colorado that offers a choice of two bed lengths and extended cab or crew cab, all 2023 Colorado pickups will have a crew cab and one bed length.
There are no mechanical surprises in the way of a hybrid or electric option, but the new Colorado does offer a variety of power outputs from one engine (more on that in a moment). Buyers can choose from several flavors, each suited to a task and each with its own interior.
Chevy says production of the new Colorado will begin "in the first half of 2023." The company hasn't revealed pricing. Today's Colorado starts at $25,200 plus a $1,495 freight charge. Prices for the current model climb to nearly $50,000 for a fully-equipped ZR2 off-road version.
Five Models to Choose From
For 2023, the Colorado will come in five trim levels. The familiar bare-bones WT (work truck) returns, as does the better-equipped LT and the more off-road-oriented but still every-day-livable Z71.
A pair of true off-roaders round out the lineup. A new Trail Boss trim level offers a 2-inch lifted suspension for added ground clearance (9.5 inches, compared to 8.9 for the WT and LT) and a wider chassis for 3 inches of added front track.
The ZR2 returns as the top of the lineup. It has 10.7 inches of clearance and Multimatic DSSV dampers for more intense trail challenges.
A New Engine in Three Flavors
The 2022 Colorado offers a choice of several excellent engines, including a gasoline V6 and a turbodiesel. The 2023 model will forgo those options, instead of offering a single turbo engine available in a variety of power outputs.
It's a proven engine Chevy loyalists know well. The 2.7-liter turbocharged 4-cylinder already appears in the full-size Silverado. Three different versions are offered in the 2023 Colorado.
The base engine makes 237 horsepower and 259 pound-feet of torque and has a 3,500-pound tow rating that isn't going to shock anyone. But a step up to a "turbo plus" model makes 310 horsepower and 390 pound-feet. That one can pull 7,700 pounds.
The off-road-oriented ZR2 gets a "turbo high-output" model of the same engine. It's still good for 310 horsepower but makes 430 pound-feet of torque for a little added power getting out of odd trail situations. It has the same 7,700-pound tow rating.
The engine sends power through an 8-speed automatic transmission that Chevy says was "designed to offer smoother shifting and quicker downshifts, for a feeling of greater comfort and power on demand."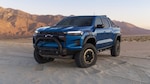 Busy New Look
The outgoing Colorado could be described as an unremarkable-looking truck.
You could say the same about the new one if you saw it from the rear angle. But up front, no one will mistake this for any other pickup.
It's as if there was a sale on hood creases. The hood has so many bulges and valleys that you could almost call it a washboard. It sits above an equally chaotic grille full of vents and character lines.
Beyond that, it's a handsome truck. But not everyone will get beyond it. This is likely to be a love-it-or-hate-it design.
That, however, is character – something unique in the midsize truck segment. So we're happy to see it.
The cargo bed features eight standard fixed tie-downs and room for up to nine additional accessory tie-downs. Molded-in pockets fit 2x4s or 2x6s, allowing you to construct your own additions. The tailgate can be set to open midway for long item storage. An optional long, narrow compartment built into the tailgate itself is a useful feature we've never seen before. It's watertight for use as a cooler.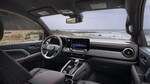 Clean, Minimalist Cabin
The outside may be overdesigned for some. But the inside is clean and simple. It strongly resembles current Kia designs, but that's not a complaint – Kia has been knocking interior design out of the park recently.
The design houses both the central touchscreen and the driver's instrument screen in a single bezel. That infotainment screen is a full 11.3 inches, even in the base WT trim.
Four interior design schemes are offered, but they are all similarly a refreshing break from overdesigned truck cabins. ZR2 models get an available gray color scheme with contrasting bright yellow stitching and grayscale digital camo trim for those seeking something dramatic.
It's too early to say whether the redesign will help pull the Colorado to the top of its class. The Toyota Tacoma won our Best Buy Award in the midsize truck class with its excellent resale value and solid performance on- and off-road. We'll let you know if the Colorado can threaten its hold once we get some time behind the wheel.